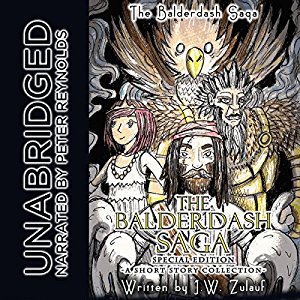 The Balderdash Saga, Special Edition by J.W. Zulauf (Narrator: Peter Reynolds)
For all the flowers left on the graves.
Includes all three short stories released under The Balderdash Saga Shorts series plus an exclusive one only found in this edition:
"Roland the Pirate Knight"
"Hurlock the Warrior King"
"Scarlet the Kindhearted Princess"
"Screech the Feathered Guardian"
Whether you like action, adventure, mystery or love, The Balderdash Saga encompasses them all, and so much more. Author J.W. Zulauf and narrator Peter Reynolds take the listener on an unforgettable journey through the underground kingdom known as Balderdash.
Available now on Audible and iTunes!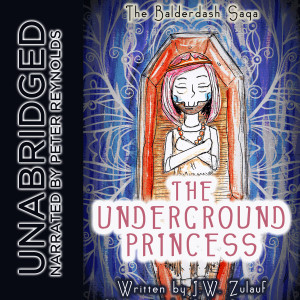 The Underground Princess by J.W. Zulauf (Narrator: Peter Reynolds)
Not all fairytales are about beautiful princesses and dashing princes. Some are about the corpses living below our very feet… Princess Scarlet is on a journey to find true love, but a malevolent force, Maleer, is in the process of dethroning her father, King Hurlock. Maleer intends to rule the underground kingdom of Balderdash, build an army, and break through the ground to invade the land of the living. As Scarlet runs out of options to save those that matter most, she is forced to make decisions that will determine the fate of her entire kingdom. Meet many friends and a couple foes, on your visit to Balderdash. Whether you're searching for true love with Princess Scarlet, or fighting for honor with Roland the pirate knight, there is something for every listener within this coffin tale.
Available now on Audible and iTunes!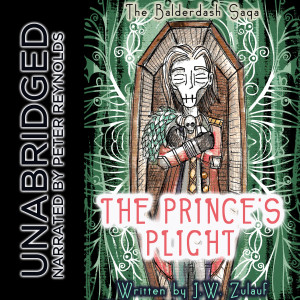 The Prince's Plight by J.W. Zulauf (Narrator: Peter Reynolds)
After defeating Maleer, the people of Balderdash work to expand their kingdom by exploring the vast caverns in search of more graveyards. Although Hurlock and the shaman have adopted Kaylan, few in Balderdash trust the prince. Scarlet barely speaks to him, and Screech is the only one to show him affection. To escape the tension, Kaylan unofficially joins the Spelunkers, a group created by the shaman tasked with mapping the caverns. Kaylan realizes with horror that humans stand merely an hour's walk from Balderdash. He faces a critical decision. Should he run away to warn the rest of the underground kingdom about the human invaders, or risk losing his life—and compromising the location of Balderdash—to save the woman?
Available now on Audible and iTunes!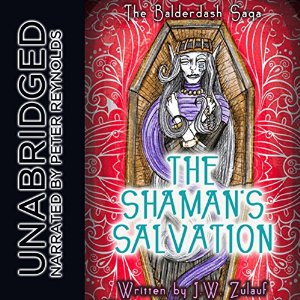 The Shaman's Salvation by J.W. Zulauf (Narrator: Peter Reynolds)
The very existence of Balderdash is hanging by a thread. The kingdom is under attack by vicious creatures called Mana Beasts, and someone is after the shaman. Will Balderdash fall because of the shaman's past actions? Will she lose it all, or will she sacrifice herself to save her people?
Available now on Audible and iTunes!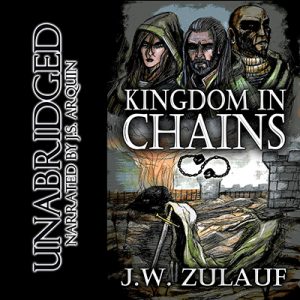 Kingdom In Chains by J.W. Zulauf (Narrator: J.S. Arquin)
Fear, violence, slavery—throughout his adult life, Barloc has known no other way.
A quarter of a century has passed since King Sclavus decreed slavery legal in the Kingdom of Kuldaire, certain it was the only way to keep the economy strong. He created alliances with the wealthy ruling class, and cast the common folk into chains. A handful of rebellions rose, but fell almost as quickly as they began, and the concepts of freedom and peace became dusty relics of the past, a nearly forgotten dream.
When Barloc is sold to Lord Harbor, his new owner offers queer promises of freedom, promises only King Sclavus can honor after a thirty-day trial. Barloc, as someone who has lost everything, or who never had anything of his own to begin with, is forced to question everything around him as he embarks on this new trial.
Whom can he trust? Why has he been selected and thrown into this strange new setting? What happened to just being a slave? How can life be any different from the only way he's ever known? What is freedom, and at what cost?
This is Barloc's chance—perhaps his last chance—to once and for all cast off the chains that bind him. And maybe, just maybe, he can bring others to freedom with him.